Refine your search below:
Found 1717 Results
Page 3 of 172
"Similarly the small black "jukes"—places like the African Queen in Ferriday—carried on a blues, hard drinking, and fist-fighting tradition, and like their white counterparts, were less cosmopolitan than the early clubs."- Hiram Ford "Pete" Gregory, III http://www.louisianafolklife.org/LT/Articles_Essays/DeltaReflections-Nightclubs.html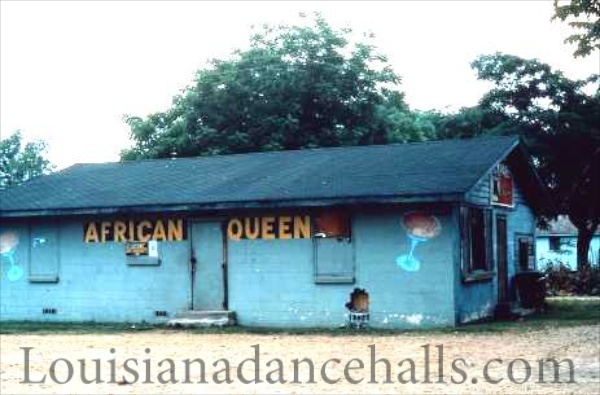 October 20, 2014
---
From www.gargehangover.com: Shreveport garage soul band The Back Alley played there. It was located on Texas Street in Shreveport.
---
3901 Johnston St on left leaving UL; DJ disco music; strobe lights; dont recall bands there, but there may have been. Crowds were 20s, 30s, singles, young marrieds; 1977 Polk Directory
---
---
Lian Cheramie: "In the 30's and early 1940 it was in Leroy (where North Vermilion High School is now) and it was called the 'Barras Dancehall.' Then in 1940 they moved it to Nunez (outside of Kaplan) and it was the 'Air-o-way Club'." LouisianaDancehalls.com reader comment by Becki Johnson: "My grandparents owned the club… From left to right: Irene Barras Castille, Ed Barras, Hazel Barras Faulk, Unknown, Edward Barras, Effie Landry Barras. Picture (taken in 1940) shows Highway 25 but it is Highway 35, in Nunez."
February 20, 2015
---
Gary Theall- It was on Hwy. 14 between Abbeville and Erath- across from the airport.
October 20, 2014
---
African American club- Featured in the 1949 Negro Motorist Green Book: Louise Street
---
From the New Orleans Jazz History Central Vieux Carre Walking Tour brochure: 501 Bourbon Street: "This location started as the second location for Dan's Pier 600, then became Al Hirt's Club, and then Al Hirt's Basin Street South. Hirt's group was the house band, but the club was also a venue for good jazz bands on tour.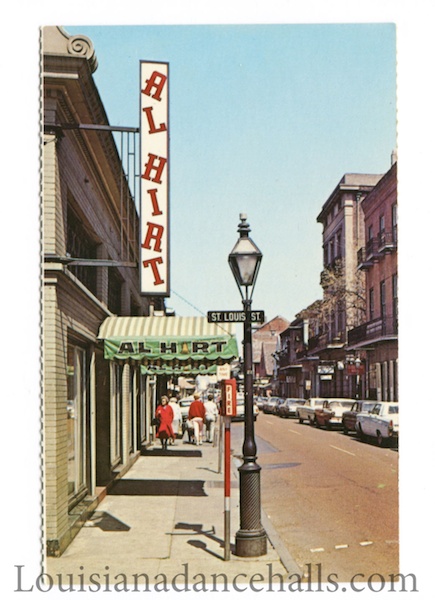 ---
on Cameron Street where the Jacobs' shopping center is now. Gabriel Elias ran it
---
From the New Orleans Jazz History Canal Street Walking Tour brochure: 1001 Canal Street/113 Burgundy Street: Previous location of the Junius Hart Music Company. When JuniusÕ music store relocated, the Alamo Dance Hall moved into the second floor of this location. While the entrance was a side staircase on Burgundy St., the dancehall overlooked Canal Street. Many musicians and bands played here including banjoist and guitarist Danny Barker.
---
Page 3 of 172